Founded in 2005, Fireaway LLC is the company behind Stat-X extinguishing aerosol technology. Fireaway's team consists of experienced fire protection experts and at the same time innovators who believe there are always better ways to protect people, goods and processes.

Unlike gaseous agents, the aerosol does not decompose in the presence of fire nor does it extinguish by oxygen deprivation. Stat-X suppresses fire (primarily) by chemical interference with the "Fire Propagation" radicals (OH, H, and O) that are essential elements in the expansion of the fire. Stat-X interacts rapidly with these free radicals within the fire zone – thus interrupting the on-going fire reaction.
Stat-X aerosol extinguishing agent consists of a patented mixture of a potassium-containing product and an organic binder. After activation, the potassium-containing product decomposes and forms potassium carbonate. The potassium carbonate absorbs heat, causing it to split. This releases a large amount of potassium radicals.
These K radicals react with the free radicals of the fire. The free radicals are the unstable particles that keep the fire going. Stable molecules are formed because the free radicals react with the K radicals. By stabilizing the radicals into molecules, the chain reaction is interrupted.
The Stat-X extinguishing unit is a double-walled hermetically sealed stainless steel housing. This contains the Stat-X extinguishing agent as a solid extinguishing agent.
When the extinguishing unit is activated, the solid extinguishing agent is converted into gaseous form by an exothermic reaction. In the next phase, the gaseous extinguishing agent is freed of potentially harmful substances via the oxidation chamber. The mixture for final cooling is fed through a number of cooling chambers in the direction of and through the ceramic cooling chamber. There the aerosol is brought to a low temperature.
The cooled mixture collects in the hermetically sealed outflow chamber. The membrane opens and the flame-retardant extinguishing aerosol flows out of the extinguishing unit. The outflowing extinguishing aerosol consists of ultra fine particles (<2 microns) that mixes with the environment.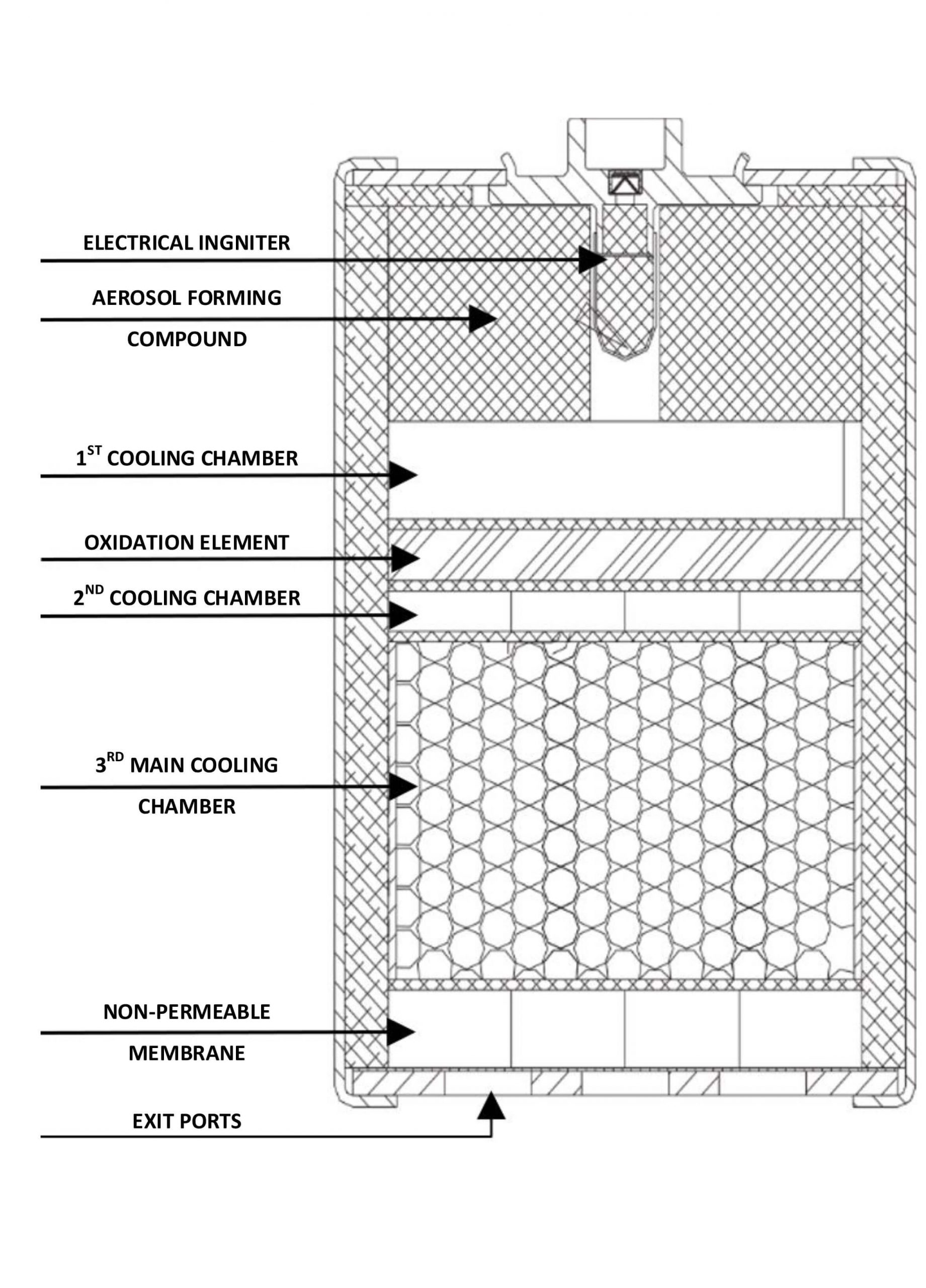 Benefits of Stat-X extinguishing aerosol
EPA & amp; SNAP approval for use in manned areas
ODP = 0 ( Ozon Depletion Potential )
GWP = 0 (Global Warming Potential )
ALT = 0 (Atmosferic LifeTime)
No special structural provisions required
No overpressure in the room
Small and compact
Non-toxic and does not deplete oxygen
Pressureless (low maintenance)
Very fast and effective with a long-lasting extinguishing effect
Tested and approved for fire class A / B / C
Suitable for object (source) and space extinguishing
Can be activated by any type of fire alarm system
Can be activated thermally and electrically, works standalone
UL2775 approved
Meets the NFPA2010-2015
Meets the NEN-ISO 15779-2011
Has an ATEX / IECEx zone 2 approval Ex nA IIC T6 Gc